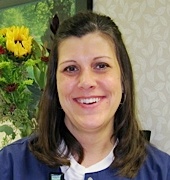 December 2012
Kathy
Adams
,
RN
PACU
Miami Valley Hospital
Dayton
,
OH
United States
Words can't describe how extraordinary Kathy is. She really goes over and beyond for her patients. She is so caring and makes our family feel at ease when she is caring for my mother. If anyone deserves this award, it would be Kathy. She is the best!

...

Kathy goes above and beyond her duty as a nurse. I feel she should be recognized by her management team. Kathy has given my grandmother excellent care. She is constantly talking to her and comforting her. Every time I see her she makes sure she gives me an update on how my grandmother has been doing for the day. This helps us all feel more comfortable. Thanks, Kathy!

...

Our father underwent brain surgery at Miami Valley Hospital with devastating results from which he did not recover. He was transferred to ICU and assigned to Kathy Adams. When he first arrived on the floor, our father was in horrible condition. Kathy diligently worked to stabilize Dad's blood pressure and other vitals. We left the room briefly and upon our return, Kathy had ministered to our father, stabilized him, cleaned him up and made him comfortable. The change and improvement in his appearance was remarkable. Kathy then made a thorough review of his medical history beginning with his arrival at MVH. When she felt comfortable and satisfied that she knew and understood the details, she took the time to patiently explain in laymen terms the gravity of our father's condition. She offered a sensitive yet realistic opinion of what we could expect. Kathy was consistently in his room, tending to his needs as well as ours.

Kathy Adams is certainly to be commended for her exceptional skill as a medical professional. Beyond her ability to care for our father's physical needs, her empathy, willingness to spend time with us and the sincerity conveyed by her words and actions made a lasting impression that we will not forget. She is an example of the excellent level of care and patient satisfaction we believe Miami Valley Hospital strives to maintain. Kathy exemplifies in every way the core values of MVH: respect, integrity, compassion and excellence.

Kathy was with our father when he passed away. We remain devastated by the outcome of the surgery, but we could not in good conscience end our experience at MVH without expressing our deep gratitude and admiration for Nurse Kathy.